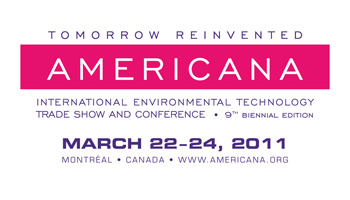 AMERICANA
AMERICANA is a first-class platform to promote technical, scientific and commercial exchanges. This Conference is constantly seeking high-quality multidisciplinary international scientific speakers. For every edition, the Trade Show brings together a large number of exhibitors. AMERICANA thus seeks to be a forum for the exchange of knowledge and practical experiences providing economic and environmental solutions.
---
Country: Canada
City: Monteral
Organizer: AMERICANA
Address: 911, rue Jean-Talon Est, bureau 220
Contact person: C?line Delzongle
Phone: (514) 270-7110
Phone2: (514) 270-7154
Fax:
Web-site:
http://www.environmental-expert.com/resulteachevent.aspx?cid=8705&codi=9608
Signin
to contact via email!
Views:
8468
Added:
11/02/2010
Updated:
11/02/2010
Average Visitor Rating:

5.00
(out of 5)
Number of Ratings: 1 Votes
EVENT SUBMISSION GUIDELINES