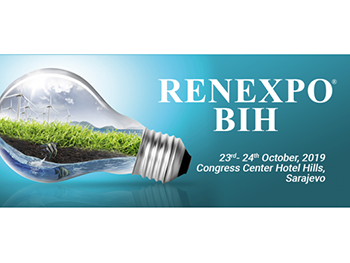 RENEXPO BiH
The Sixth International Trade Fair on Energy, Water and Environmental Protection - RENEXPO BiH in Sarajevo, Bosnia and Herzegovina, is the most significant meeting point for business key players, decision makers, industry and experts in the field of Renewable Energy, Energy Efficiency, Hydropower, Wind Power, Biomass, PV, Waste to energy, E-mobility, Water infrastructure, Waste/Water treatment.

Over 80 company's presentations will be visible in the trade fair exhibition and conference program. The exhibitors come from 25 countries all over the globe and the entire Western Balkans region. Over 2,000

Professional and trade visitors, project holders, investors will be matched with the trade fair exhibitors.
---
Country: Bosnia and Herzegovina
City: Sarajevo
Organizer: REECO International
Address: Petra Drapsina
Contact person: Nikola Lucic
Phone: +381212100151
Phone2:
Fax:
Web-site:
http://www.renexpo-bih.com/en/home-en/
Signin
to contact via email!
Views:
439
Added:
07/09/2019
Updated:
07/10/2019
Average Visitor Rating:

0.00
(out of 5)
Number of Ratings: 0 Votes
EVENT SUBMISSION GUIDELINES