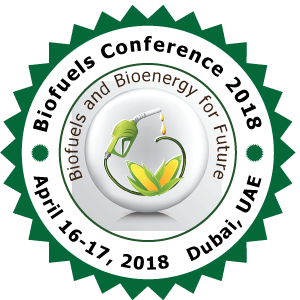 9th Annual Congress and Expo on Biofuels and Bioenergy
Conference Series LLC invites all the participants across the globe to attend the 9th Annual Congress on Biofuels and Bioenergy April 16-17, 2018 Dubai, UAE. The theme of the conference is "Biofuels and Bioenergy for future" and to encourage young minds and their research abilities by providing an opportunity to meet the experts in the field of Biofuels & Bioenergy and Chemical Engineering.
---
Country: UAE
City: Dubai
Organizer: ConferenceSeries LLC
Address: One Commerce Center-1201, Orange St. #600, Wilmington, Delaware, USA
Contact person: Jason Martin
Phone: 1-702-508-5200
Phone2:
Fax:
Web-site:
https://biofuels-bioenergy.conferenceseries.com/middleeast/
Signin
to contact via email!
Views:
1623
Added:
11/11/2016
Updated:
09/20/2017
Average Visitor Rating:

5.00
(out of 5)
Number of Ratings: 4 Votes
EVENT SUBMISSION GUIDELINES