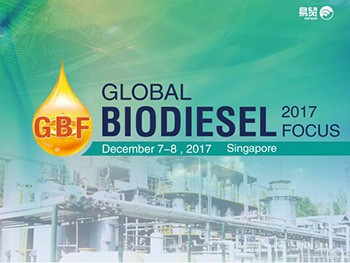 5th Global Biodiesel Focus 2018
Session 1: Global Crude Oil Market
Global Oil Price Outlook & Prospect 2018-2019.  
Session 2: Feedstock
1. China Waste & UCO Oils development trend
2. Asia Pacific Palm Oil Market , Price Review & Future Prospect 2018-2019
3. Soy Bean & Soy Bean Oil Price Outlook & Prospect 2018-2019
4. Methanol Market Price Analysis and its role in Biodiesel.
Session 3: Country Policy on Biodiesel
1. Indonesia: B30 plan move forward and will reach in 2019, will it lead 100% capacity for Indonesia plant?
2. China: E10 is growing vigorously in China, how about biodiesel? What should Chinese supplier do in order to gain market?     
3.  EU: Although anti-dumping some major biodiesel producer has been call off, EU still have limitation on import vegetable oil based biodiesel? Who will be the next target for EU buyers?
4. Thailand: According to news report, B10 diesel will come into season in Thailand Automotive Market by the beginning of 2019, so is B10 surely can be reached in 2019 and give new birth to Thailand Biodiesel Producer?
5. Malaysia: Malaysia will launch the B10 biodiesel project from the second half of 2019. Will it delay again? How Can Malaysia biodiesel export hold the menacing challenges from Argentina who use low price feedstock and Indonesia who have strong government support?6. Explores on Quality, Performance and Distribution of PP YARN
Session 4: Biodiesel Supply and Demand
1.  South America Biodiesel Market Outlook ( Brazil + Argentina)
2.  Global Biodiesel Trading Flow in 2018 and Outlook for 2019
Session 5: Application & By-product
Glycerin Market, Price Overview & Future Prospect 2018-2019
Biofuel use in Power Generation, New & Sustainable Development for Biodiesel?
---
Country: China
City: Shanghai
Organizer: Enmore China
Address: Enmore building, No.999, Jingzhong Road, Changning district, Shanghai, China
Contact person: Yolanda Deng
Phone: 021-5155-4613
Phone2:
Fax:
Web-site:
http://www.enmorebiz.com/file/BrochureGBF2018.pdf
Signin
to contact via email!
Views:
1116
Added:
10/15/2018
Updated:
10/15/2018
Average Visitor Rating:

0.00
(out of 5)
Number of Ratings: 0 Votes
EVENT SUBMISSION GUIDELINES