World Biofuels Markets relocates to Rotterdam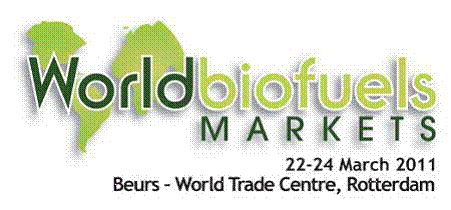 It was recently announced that World Biofuels Markets, Europe's largest Biofuels Congress and Exhibition, is relocating to Rotterdam for 2011. WBM Event Director, Nadim Chaudhry commented "We are very happy to be in Rotterdam next year. I believe Rotterdam is uniquely suitable to host WBM, as it has been a trading hub for centuries and is now the refinery capital of Europe. WBM is a major, global meeting point for the biofuels community and the emerging biorefining and biochemicals communities. The Congress has traditionally been an excellent marketplace, where the US and Asia meets Europe."
Suitable Venue
"It is difficult to find a suitable venue for an event of this size" continued Chaudhry "But we are pleased with the new World Trade Centre venue, it's a redevelopment of the original Corn Exchange and it's excellently located, only 20 minutes from international hub of Amsterdam Schipol Airport."
New for 2011
"The agenda grows each year and this year we will be focusing on advanced biofuels, aviation and biochemicals. We will be adding a new Biogas stream and several tours to the programme for 2011, Europe's largest port and some of the nearby biorefineries could be added attractions for our international delegates."
About World Biofuels Markets
World Biofuels Markets (WBM) is the leading annual industry networking event where the leaders of the biofuels world meet to drive innovation and do business. Over 5465 high calibre executives from 80 countries have attended to date. Visit the event website at www.worldbiofuelsmarkets.com
Feedback from 2010
"You have the right people here, people at the right level of decision making, the right legislators, the right level of key opinion leaders, these are the people who make the strategies for the future" SBAE Industries
"This is the place to be. As a networking event, it is hard to find anything similar" Poyry
"A great event. A great opportunity to meet all our customers and business partners" Novozymes
"The amount of networking that goes on at WBM is incredible" BP Biofuels
About Green Power Conferences
Green Power Conferences and Green Power Academy are trading names of Green Thinking (Services) Ltd. Established in 2003, Green Power Conferences was the first to offer professionally organised events focusing on the sustainability sector. Over the last five years, we have welcomed over 10000 delegates from 90 countries and built a global database of 400,000+ contacts. Our expertise lies in producing high quality, interactive conferences and training courses that provide ample networking opportunities for delegates and partners alike.
Each event is developed by a team of market research professionals who ensure our events provide in-depth discussions and the latest industry updates in these fast-moving sectors. With a global portfolio of 50+ events, Green Power Conferences is helping to accelerate the uptake of sustainable business practices from Rio to Hong Kong. We also walk the talk, by offsetting all our commercial activities through renewable energy projects around the world. For more information visit www.greenpowerconferences.com
---
Country: Denmark
City: Rotterdam
Organizer: Green Power Conferences
Address: London
Contact person: Melanie Botting
Phone: +44 (0)20 7099 0600
Phone2: +44 (0)20 3355 4226
Fax: +44 (0)20 7900 1853
Web-site:
http://www.greenpowerconferences.com
Signin
to contact via email!
Views:
3752
Added:
12/02/2010
Updated:
12/02/2010
Average Visitor Rating:

5.00
(out of 5)
Number of Ratings: 1 Votes
EVENT SUBMISSION GUIDELINES