The number of Ukrainian straw pellet producers and sellers increased in 2012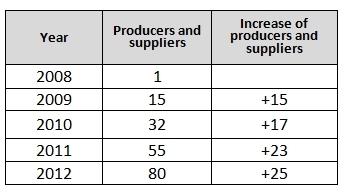 According to experts' data, during recent years the volume of solid biofuel production have grown tremendously. The growth in this power sector is mainly determined by a big popularity of agricultural pellets and in particular straw pellets.
Nowadays Ukrainian straw pellet producers are mostly focused on export. For the time being the modern energetic market in Europe requires much more straw solid fuel than it's produced in Ukraine. A favorable geographical position of the country gives it good logistic conditions. Large batches of this fuel are delivered from Ukraine to many European countries by a railway transport. Ukraine is the supplier of alternative power source made of unconventional feedstock (straw) at very attractive prices for Europe. Due to the technical features such pellets are mainly industrial, their large amounts (from 1000 up to 5000 tones) are used at thermal power stations. As a result, Ukrainian straw pellet producers and suppliers, who are oriented on long-term collaboration and may grant big batches of the production, find their customers and sell the production without significant problems.
As for domestic Ukrainian market of solid biofuel, here the tendency to growth and development is also well observed. Firstly, the advantages of such fuel if to compare it with traditional coal and fire wood get more and more obvious. We may mention safety, sustainability and more affordable prices in comparison with traditional energy sources, which annually get more expensive. Secondly, the growth of popularity is also determined by rather cost effective solid fuel boilers, which appeared on Ukrainian market. The projects involving such boilers are implemented more and more often among public utility companies in small towns. Their purpose is to heat local schools, hospitals, kindergartens and other social facilities.
So the marketing specialists of Ukrainian biofuel portal prepared the release presenting the updated base of straw pellet producers and suppliers in Ukraine for the period from November 2011 till October 2012. This base is a good addition to the previous releases of such bases which were composed from 2008 till 2011.
The base contains the data both about big producers and supplying companies and about private entrepreneurs selling straw pellets. The offers include the information about technical features of the production, its volumes and delivery terms, types of packing, sale prices, available documents and main cooperation conditions. The sellers of straw pellets from such regions as Kiev, Vinnitsa, Dnepropetrovsk, Donetsk, Zhytomir, Zaporozhye, Kirovograd, Odessa, Poltava, Sumy, Khmelnitsk, Cherkassy and the Crimea are presented in the base. Thanks for this informational resource the existing and potential straw pellet buyers will be able to select their most fitting conditions of collaboration and thus sign advantageous contracts.
The analysis of the statistic data presented in the base lets see that Ukrainian straw pellet market have featured a positive dynamics of development for 5 years. The number of producers and suppliers of this fuel increases annually. It should also be mentioned that besides the increase of the sellers' number their sale geography widens as well. The direct proof of such growth is that in 2012 the number of straw pellet producers and sellers in Ukraine increased by 45%.
---
Country: Ukraine
City: Kiev
Organizer: Ukrainian Biofuel Portal
Contact person: Sergei Kozlov
Web-site:
http://pellets-wood.com/
Signin
to contact via email!
Views:
4239
Added:
11/16/2012
Updated:
11/16/2012
Average Visitor Rating:

4.00
(out of 5)
Number of Ratings: 2 Votes
EVENT SUBMISSION GUIDELINES