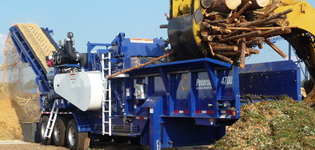 Southern Utah Woody Biomass Field Day
Biomass equipment demonstrations will be featured at the October 18th Southern Utah Woody Biomass Field Day in Beaver, Utah. The event will spotlight specialized equipment used to convert junipers, pinyon pines, and other woody material into a marketable product.
Landowners, contractors, agency personnel, and biomass purchasers will be able to view the material as it is changed from whole trees into a transportable product. These chips can be used in state-of-the-art heating and cooling systems that fully utilize the material with minimal residue and smoke.
---
Country: United States
City: Beaver
Organizer: Bloomin Ranch Service
Address: POB 968
Contact person: Lance Lindbloom
Phone: 435-849-0970
Phone2:
Fax:
Web-site:
http://www.utahbiomass.com
Signin
to contact via email!
Views:
3529
Added:
10/03/2010
Updated:
10/03/2010
Average Visitor Rating:

5.00
(out of 5)
Number of Ratings: 2 Votes
EVENT SUBMISSION GUIDELINES