Over 260 industry decision makers gather in San Francisco on November 9-10 to discuss the future of biofuels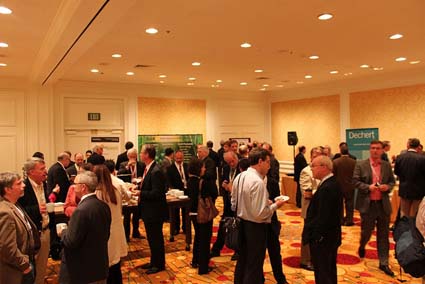 97% of the US Advanced bioenergy capacity represented
Over 260 industry decision makers gather in San Francisco on November 9-10 to discuss the future of biofuels
With 20 CEO's on the speaker panel including Codexis, Solazyme, Joule, and Sundrop Fuels, the inaugural Advanced Biofuels Markets event was a very high level meeting for industry leaders who are serious about pushing the boundaries of biofuels. The conference included unrivalled networking opportunities, with the attendee list encompassing the who's who of the biofuels community.
This was no ordinary conference. With so many CEO's participating, presentations were cutting edge and the agenda was a hotbed for industry announcements. During the conference, D Hunt Ramsbottom announced that Solena has signed a letter of intent to license Rentech's proprietary Fischer-Tropsch synthetic fuel technology for GreenTech, Solena's sustainable BioJetFuel project in the United Kingdom. Also, SG Biofuels announced it has established a strategic partnership with Bunge North America to research and develop a model to process Jatropha seeds into a biofuel feedstock – as outlined by SG Biofuels CEO Kirk Haney on the second day of ABM.
Advanced Biofuels Markets was co-produced by Greeen Power Conferences and Biofuels Digest. This is just one event in Green Power Conferences' World Biofuels Markets global series.
Don't miss out on the global meeting point of the biofuels industry and the opportunity to benchmark your progress against industry leaders: World Biofuels Markets 2011. The 6th annual congress and exhibition takes place 22 – 24 March 2011 in Rotterdam, The Netherlands and will feature 2000 decision makers, including 250 key speakers during a three day, interactive event.
---
Country: United Kingdom
City: London
Organizer: Green Power Conferences
Address: London
Contact person: Melanie Botting
Phone: +44 (0)20 7099 0600
Phone2: +44 (0)20 3355 4226
Fax: +44 (0)20 7900 1853
Web-site:
http://www.greenpowerconferences.com
Signin
to contact via email!
Views:
3541
Added:
12/02/2010
Updated:
12/02/2010
Average Visitor Rating:

5.00
(out of 5)
Number of Ratings: 2 Votes
EVENT SUBMISSION GUIDELINES