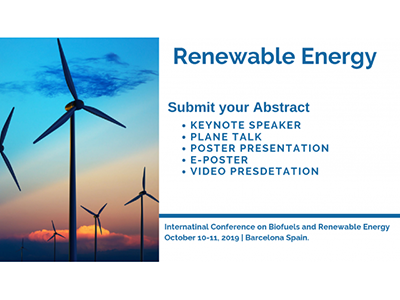 International Conference on Biofuels and Renewable Energy
The Gavin Conferences is honored to the invites the leading academic scientists, Researchers, Engineers, research scholars, students to participate at "International Conference on Biofuel and Renewable Energy 2019" during 10-11, October 2019 in Barcelona, Spain. Biofuels 2019 invites to exchange and share their experiences and research results on all aspects of Biofuel and Renewable Energy. It is also provides a platform to present and discuss the most recent innovations, trends, and concerns as well as practical challenges encountered and solutions adopted in the fields.
---
Country: Spain
City: Barcelona
Organizer: Gavin Conference
Address:
Contact person: Ronald Allen
Phone:
Phone2:
Fax:
Web-site:
https://biofuels-renewableenergy.gavinconferences.com
Signin
to contact via email!
Views:
493
Added:
04/18/2019
Updated:
04/18/2019
Average Visitor Rating:

0.00
(out of 5)
Number of Ratings: 0 Votes
EVENT SUBMISSION GUIDELINES