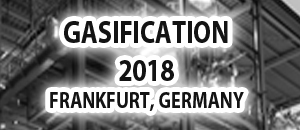 Gasification 2018
Following the six successful ACI Gasification Summits in previous years, we are delighted to confirm the dates and the location of the next year's event as 28th – 29th March 2018
in Frankfurt, Germany.

ACI's 7th Annual Gasification Summit will comprise two days of formal presentations, interactive roundtable discussions and excellent networking opportunities, providing an ideal setting to convene with your peers to discuss both current operational & future planned gasification plants, end product markets, potential barriers & support policies as well as project economics & finance.
Sample list of confirmed participants include:
Saudi Aramco | Engie | Cener | Shell | Eco Consult D.o.o.Croatia | TOTAL RC On Behalf Of Bionext | SGS Germany GmbH | Havenbedrijf Antwerpen | Institute For Energy Systems | Total Raffinerie Mitteldeutschland GmbH | Cortus Energy AB | Pulsar Da Terra, Lda. | Fluor | ITC Invest Trading & Consulting AG | Drax Group Plc | Porvair Filtration Group Ltd | RWE Power AG | Hong Jing Metal Corporation | Group Machiels | Sandvik Materials Technology | Fumar Sp. Z O.o. | SUEZ Deutschland GmbH | Veroniki Holding  S.p.A | SkyNRG | German Biogas And Bioenergy Society GERBIO | Rijksdienst Voor Ondernemend Nederland (RVO.nl) | Skive District Heating Company | European Commission DG Joint Research Centre | Technical University Delft Process And Energy Department | Energy Technologies Institute | Karlsruhe Institute Of Technology | Biomass Energy Engineering | NNFCC The Bioeconomy Consultants | ECN | Valmet | VTT Technical Research Centre Of Finland | Solar Turbines Switzerland | Fives Solios Inc | Creative Energy Clusters | Sotacarbo S.p.A. and many others…
£240 subscriber's discount available until 12th March 2018. Please use the code ECGe7MKT online for discounted rate
---
Country: Germany
City: Frankfurt
Organizer: ACI
Address: 10 Gough Square
Contact person: Mohammad Ahsan
Phone: 2031410606
Phone2:
Fax:
Web-site:
http://www.wplgroup.com/aci/event/gasification/
Signin
to contact via email!
Views:
1929
Added:
03/01/2018
Updated:
03/01/2018
Average Visitor Rating:

0.00
(out of 5)
Number of Ratings: 0 Votes
EVENT SUBMISSION GUIDELINES