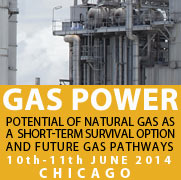 Gas Power
This conference addresses the potential of natural gas as a short-term survival option and future gas pathways, and deal in part with the departure from coal to natural gas power and the
implications for utilities at plant and production level as well as Plant life maintenance and life extension.
The conference will draw together senior industry figures within the US power industry to discuss the most pertinent issues facing the utilities and the power markets.
---
Country: United States
City: Chicago
Organizer: World Arena
Address: Millennium Knickerbocker Chicago (163 East Walton Place, Chicago, IL 60611)
Contact person: Gabriel Webb
Phone: +1 312 544 0023
Phone2: +1 312 924 3730
Fax:
Web-site:
http://www.worldarena.us/wap/
Signin
to contact via email!
Views:
2481
Added:
04/04/2014
Updated:
04/04/2014
Average Visitor Rating:

5.00
(out of 5)
Number of Ratings: 3 Votes
EVENT SUBMISSION GUIDELINES