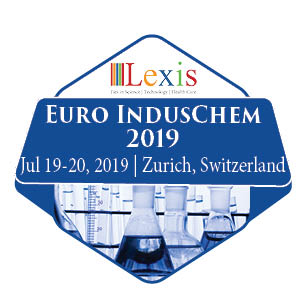 Euro Industrial Chemistry and Water Reclamation
Euro Industrial Chemistry and Water Reclamation aims to provide an up-to-date source of information on a variety of selected topics. The conference will be organized on the theme of Chemistry Re-Evaluation - Water Chemistry, Emerging and Revolutionizing Wastewater Treatment, this conference is going to be held from July 19-20, 2019 in Zurich, Switzerland. International Conference on Chemistry and Water Treatment will offer an exciting, & wide range of scientific programme designed to engage high profile scientific international on topics of importance related to the Industrial Chemistry and Water Treatment. This Conference will be the perfect occasion for the international and Indian experts to share their leading-edge knowledge on innovation and technology balanced by critically important insight into their practical application. The conference will also feature over scientific poster presentations, a large trade exhibition and a packed social programme providing an excellent opportunity to learn, network and exchange ideas.
Euro IndusChem 2019 spreads an extensive range of critically important sessions from basic research to recent innovations. It is particularly based on learning and sharing knowledge on current research and enormous applications of Industrial Chemistry and Water Treatment. Prominent Scientists / Research Professors in the field of Chemistry, Junior/Senior research fellows, Students, Directors of chemicals research companies, Chemical Engineers, Members of Chemistry/Chemical Sciences affiliations and exhibitors from chemicals Industry/chemical Industries. Delegates from various pharm & instrumental companies from all over the world are welcomed to IndusChem 2019. Several practical examples of innovative and efficient resource recovery & upcycling from the water cycle will be presented
Conference Highlights
Petroleum Chemistry and Refining
Marine and GeoChemistry
Pharmaceutical Chemistry
Advanced Biorefinery
Synthetic Organic Chemistry
Hazardous Waste Management
Oil & Gas Extraction
Pesticide Treatment
Green water Treatment
Desalination
Mining and Metallurgy
Fee: $599
---
Country: Switzerland
City: Zurich
Organizer: Lexis Conferences
Address: Zurich, Switzerland
Contact person: Kolli Divya
Phone:
Phone2:
Fax:
Web-site:
https://www.lexisconferences.com/industrialchemistry-watertechnology
Signin
to contact via email!
Views:
864
Added:
11/29/2018
Updated:
11/29/2018
Average Visitor Rating:

0.00
(out of 5)
Number of Ratings: 0 Votes
EVENT SUBMISSION GUIDELINES