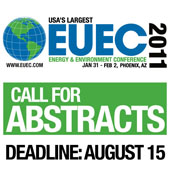 EUEC - USA's Largest Energy & Environment Conference
The 14th annual Energy & Environment Conference, has grown since inception in 1995 to one of USA's largest, and most prestigious "must attend" annual networking and educational events, where over 2500 delegates, including environmental business leaders, energy executives, NGOs and government policymakers, attend a technical program with 650+ expert presentations, and a networking exhibition with 200 companies, in Phoenix, AZ, Jan 31 - Feb 2, 2011.
---
Country: United States
City: Phoenix, AZ
Organizer: EUEC
Address: P.O. Box 66076, Tucson, AZ 85728
Contact person: Prabhu Dayal, P.E., PhD.
Phone: 520-615-3535
Phone2:
Fax: 602-296-0199
Web-site:
http://www.euec.com
Signin
to contact via email!
Views:
9514
Added:
07/22/2010
Updated:
07/22/2010
Average Visitor Rating:

5.00
(out of 5)
Number of Ratings: 1 Votes
EVENT SUBMISSION GUIDELINES