During one year the number of Ukrainian wood pellet producers doubled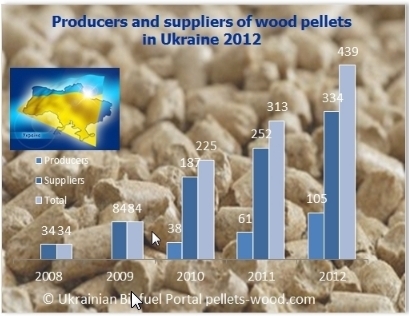 These days, wood granules are not in a big demand on the domestic market. However, in Ukraine the number of producers of such fuel increases annually, mainly it's caused by the rapidly growing popularity of wood pellets in Europe and in other countries. Experts say, if the process of pellet production is organized correctly, this business will be profitable enough, that's why more and more investors are ready to put up their capital in it. Many specialists affirm that the free access to raw materials is an obligatory condition for project's success. In other words, it would be unwise to run the production of pellets as a separately taken business. It is much more reasonable to have own sawmills, which may grant the plant an independence from external suppliers of raw materials. Moreover, this way the cost of the finished product will eventually decrease.
If we analyze the final release of the base of Ukrainian wood pellet producers and suppliers in 2012, prepared by the marketing team of the Ukrainian Biofuel Portal, we will see that in 2011/12 MY 44 wood pellet producers were registered at pellets-wood.com . This is almost twice more than last year. These results are primarily determined by the significant increase in demand for wood pellets in the world market. Base analysis reveals that the total potential of Ukrainian pellet plants is 25 000 tons per month, the main number of the producers are located in Kyiv, Zhytomir and Donetsk regions.
Today, the largest Ukrainian buyers of wood pellets are Italy, Austria, Czech Republic and Germany. In these countries, this energy source is mainly obtained for heating homes, cottage villages and sometimes organizations. In most cases, wood pellets are exported to the EU by big producers or traders, who buy them from plants for following resale.
Experts believe, today in order to arrange the export of wood pellets successfully, it is necessary to enter a foreign market with high quality products solely. EU countries divide such biofuel into domestic and industrial types, the requirements to pellets are already formulated, and the standards are documented. The main indicator of pellet quality is the amount of ash, which appears during combustion. The analysis of the final release of the base of Ukrainian wood pellet producers and suppliers in 2012 revealed, that in Ukraine most of pellets (70%) offered for sale feature ash content less than 1%, 20% of the production have this indicator on the level of 1.2%.
Indeed, the requirements for solid fuel in today's energy market are getting more and more strict. We may assume, this directly effects the improvement of produced pellets quality, that in turn makes them more and more popular all over the world. For information, over the last decade the annual consumption of wood pellets in the EU reached ten millions. It is rather explainable that the high global demand for wood pellets stimulates Ukrainian entrepreneurs to build new pellet plants, modernize equipment, improve the characteristics of products and enter new markets.
---
Country: Ukraine
City: Kiev
Organizer: Ukrainian Biofuel Portal
Address: Kiev
Contact person: Sergei Kozlov
Web-site:
http://pellets-wood.com/base-final-release-of-the-base-of-pellet-producers-and-3.html
Signin
to contact via email!
Views:
5203
Added:
03/19/2013
Updated:
03/19/2013
Average Visitor Rating:

5.00
(out of 5)
Number of Ratings: 2 Votes
EVENT SUBMISSION GUIDELINES