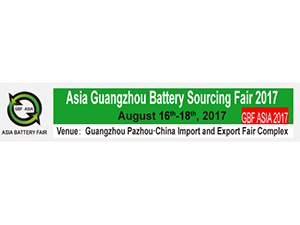 2nd Asia (Guangzhou)Battery Sourcing Fair 2017 (GBF ASIA 2017)
2017 Asia Power Battery & Energy Storage Summit
Focused on power battery technology and application, smart manufacturing, SMS battery management system and energy storage, the summit will be attended by worldwide experts of the industry. It will be an unprecedented chance for you to pick the brains of global experienced insiders and to gain deeper understanding of Chinese battery market.
---
Country: China
City: guangzhou
Organizer: Guangdong Grandeur International Exhibition Group
Address: Room 401, Science zone Jingu three Street No. 4, Kexuedadao Road No. 100, Luogang District, Guangzhou City.
Contact person: Alice Li
Phone: 86-20-29188160
Phone2: 86-20-29188160
Fax: 86-20-29188160
Web-site:
http://www.battery-expo.com
Signin
to contact via email!
Views:
1384
Added:
07/05/2017
Updated:
07/05/2017
Average Visitor Rating:

0.00
(out of 5)
Number of Ratings: 0 Votes
EVENT SUBMISSION GUIDELINES